CENTENARY CUB CAMP 2016
July 1 – July 3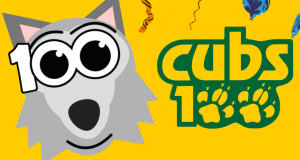 So, the Gloucestershire County Centenary Cub Camp is now over.
We are aware that many parents were able to follow activities over the weekend by accessing the GlosCubs100 website and the twitter feed, but of course that was a very broad view of the camp – after all, there were 557 Cubs attending, so they couldn't focus much on individual Packs.
By the time our Cubs ar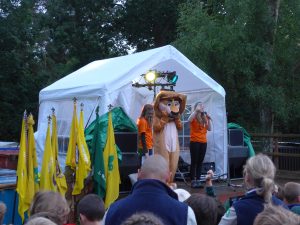 rived on site on Friday evening the tents had already been pitched by Akela and Bagheera, and kit bags placed in the allocated tent ready for the Cubs to unpack.
They had about an hour to lay everything out before the opening ceremony at 9pm, with a parade of the 29 Pack standards, and then an introduction to Alex the lion. 
After this it was time to test the catering team for the first time with hot chocolate and biscuits for over 700 people! Then it was bedtime, with silence anticipated on site by 11pm. Well, that was certainly wishful thinking! All of the Cubs were excited and going to sleep was not top of their priority list – somewhere down the line after talking, telling jokes, and seeing how bright their torches were when it was really dark! Not helped by a tent of  neighbouring Cubs who were even more exictied (i.e. even louder) it was well after midnight before many actually settled down.
Saturday started fairly early. Ok, very early. To be fair to them it does get quite light in a tent in July at around 4.30, and some Cubs (in a neighbouring tent) decided it was time to start the day, with their volume setting turned back on (and up). The situation wasn't helped by a murder of crows roosting in the trees quite close who all woke at around the same time, and for a few minutes even drowned out the sound of the Cubs!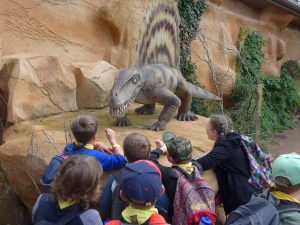 So, after breakfast of cereal and a bacon bap al fresco, we joined everyone else in the main arena for flagbreak, and then all set out to the West Midlands Safari Park – literally through a gate at the side of the campsite. We had to walk across the main entrance to the park – cutting across in front of the cars queued waiting on the approach to the ticket kiosks for the park to open. (We did wonder how many of these cars occupants were suddenly regretting choosing that day to visit, seeing 700 people walking across in front of them!)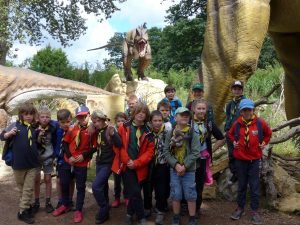 As the theme park rides didn't start until 11am, our first stop was in the new dinosaur exhibit, where a few Cubs tried taunting the smaller dinosaurs, but fortunately didn't loose any fingers. However, not sure if they realised what was sneaking up behind th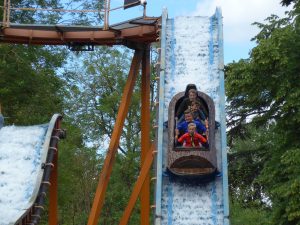 em later though!

Everyone had ride wristbands, so whilst we stayed together as a group, most Cubs were able to go on most rides they wanted to.
We had a timed slot for the trip around the safari park 'drive-through' by coach, with good views of all of the animals – the extra elevation helped considerably. The only disappointment was the Cheetah, which only had a head visible but was otherwise hidden in the grass. We had good views of everything else including the baby rhino Ekozu.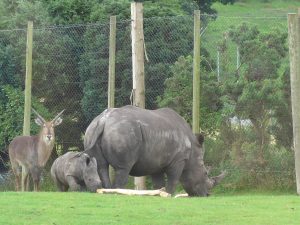 However, the trip around the animals, which with a clear run could be done easily in an hour actually took over 2 hours, principally because of the number of cars ahead of us, all intent on feeding the animals (well, those that would be interested in the food pellets!), and so stopping their cars effectively blocking all traffic.  
A couple of the Cubs did seem to take advantage of the length of the trip around the safari park to catch up on a little sleep!
We returned to camp at 5pm (when the Safari Park closed) for tea, and then made ready for the evening, kicking off with camp fire.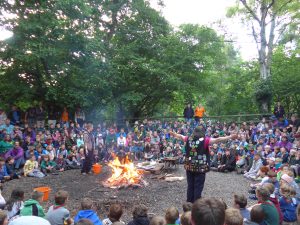 As a Pack we have camped at Rhydd Covert before, and held our camp fire in the camp fire circle, and sometimes wondered how many people it could hold. Now we know! Including standing room, around 700 people managed to squeeze in around the fire, and we then had around three quarters of an hour of camp songs and stunts.  For some of us who struggle to get 20 cubs around our camp fire to remember the words and summon up the enthusiam to sing along to some of our Scouting songs, having Ging Gang Gooly belted out by 700 voices was quite an experience!
We then had a wide game, where the intention was to mix up everyone between Packs / Groups /Districts to help the Cubs realise that Scouting is much bigger than just our own Group – although I think by now they'd already realised that! At the end everyone had to find Alex the lion to collect their prize for completing the task.

We decided to miss the disco (held in a field…) and headed towards our tents as some of our Cubs were clearly slowing down, and by 10pm everyone was tucked in and quiet, if not all asleep.
Sunday started in a slightly different way. Whilst we still felt like murdering the crows at 4.30, the Cubs all slept on, and the majority had to be woken at 7am (which was when breakfast was scheduled to be served from…) A choice of cereal again, plus a sausage bap (2 sausages per Cub).

Flag break was at 9.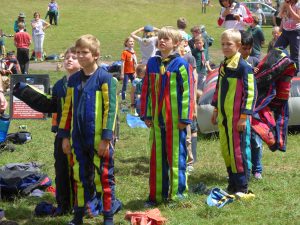 30, after which the activity bases were opened, including archery, rope swings, assault course, caving, and numerous 'inflatables'.
We stopped for lunch at around midday, and then continued with the activity bases to 2pm, when we had the closing ceremony. 
Then it was back to finish tidying up our site,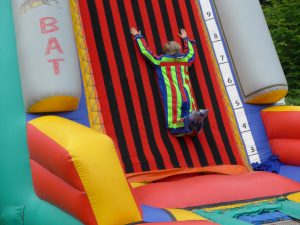 and pick up bags ready to head for the coach pick up point.
As everyone knows there seemed to be a bit of a hiccup with the transport, which meant a bit longer wait than everyone had expected, with everyone back to Churchdown by 6.30pm.
Whilst not a traditional Cub camp, it was certainly packed with activities, and a genuinely unique experience for eveyone attending – for the majority this will be the largest camp they will ever attend, so hopefully it has proven to be both enjoyable and memorable!